Teriyaki is a special Japanese sauce and fits perfekt to beef. Even for beef jerky its a very good idea to use. What is better to combine teriyaki with smoked flavor? Nothing, that's right. This recipe is perfect to the a bunch of best jerky ever: smoked teriyaki jerky. Worth a try?
| | |
| --- | --- |
| Ingredients | |
| 2 kg | Beef |
| 500 ml | Soy sauce |
| 200 ml | Worcestershiresauce |
| 200 ml | Teriyaki sauce |
| 3 ts. | Garlic powder |
| 3 ts. | Onion powder |
| 1 tbs. | Salt |
| 1 tbs. | Smoke salt |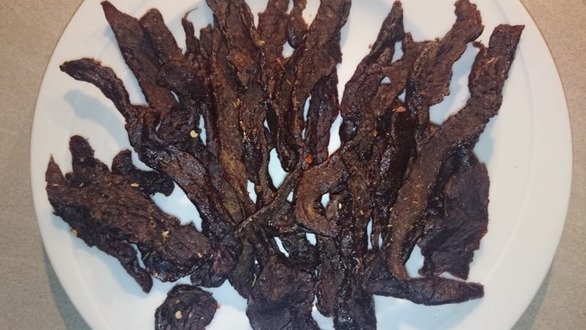 How to
This recipe is as easy as delicious. Simply mix all Ingredients together. Before marinading you meat don't forget to cut it in small pieces of even stripes. It should be smaller then 1 centimeter. Perfect is approx. 0.5 centimeter.
Marinade it well. Best practice: Poor the marinade in a plastic bag and put the meet inside as well. Close it properly. By shaking the bag every part of the meet will be marinaded.
Head up the oven. About 65 degrees are perfect. Now you put your baking try inside. Don't forget to place the meat pieces on this tray before. 😉
Have a first look after around 5 hours Then the meet should be good. If it's still to juicy just give them another 30-60 minutes (depending on the thickness of your meet).